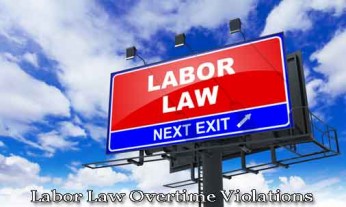 Labor law overtime violations and employee commute. Must I pay overtime for my employee's commute? Your receptionist has clocked out for the day and is driving home; yet, while at a stop light, gets a text from a co-workers regarding a work related question. It requires a simple "yes" or "no" and being a diligent employee he/she pulls over and responds with a text back. A few minutes later, another text is received that requires a very simple response which only takes a minute. In total, your receptionist spent approximately 1 minute and 20 seconds to read and respond to these texts.
No big deal right? Wrong! It is a big deal. The receptionist, being a non-exempt employee, is due overtime for the work performed answering texts while commuting home. For employers, the modern use of devices and smart phones by employees has further complicated the lines between clocking in and out of work and what is considered "working".
The Fair Labor Standards Act in the United States regulates overtime, and additional state laws are in place that can affect employers, especially in regard to non-exempt employees who communicate on devices prior to and after work hours.
Employers need strict guidelines for non-exempt employees regarding work related texts, emails, face chats and messaging while commuting to and from work or employers may be liable for expensive penalties and fines.
It is important that employers evaluate non-exempt status to determine if their business is following fair labor standards regarding overtime. A general rule of thumb is: if a non-exempt employee is working (doing something for their employer) no matter their location, including being "on-call" they are considered "working" and must be paid appropriately. Additionally, if non-exempt employees are sent off-site during working hours they must be paid for their travel time as well.
Violations to labor laws carry serious penalties and fines, so small business owners should have carefully written policies. Labor law violations can trigger a domino effect for an employer: when one employee files a complaint with the Labor Board, other employees often follow. Even past employees can get in on the action.
A clearly defined policy regarding telecommuting, such as provided below, should be included in your Employee Handbook:
TELECOMMUTING POLICY FOR NON-EXEMPT EMPLOYEES
For non-exempt employees, telecommuting (working from another location, i.e., mobile, smart phone and/or from one's home computer) is not permitted, unless pre-approved by your immediate supervisor, in writing, via e-mail communication. Without express written permission to telecommute, all non-exempt employees must perform their job duties at their primary central and customary workplace, "on clock" and cannot work or resume work if clocked out. Failure to comply with these requirements will subject the employee to disciplinary action and/or termination of employment.
OFF-SITE REPORTING OF TIME FOR NON-EXEMPTS
 When pre-approved for telecommuting (working off site), it is a requirement that non-exempt employees work "on clock" via e-mail certified time by following this procedure:
Before beginning any work, send one (1) e-mail to your immediate supervisor outlining the anticipated duties you will be performing; the time recorded on this e-mail is your certified start time.
At the end of work, send one (1) e-mail to your immediate supervisor outlining the work you accomplished; this e-mail will certify your finish time.
Non-exempt employees may not work before the first e-mail is sent, and may not resume work after the second e-mail is sent. For clarification, the time that is marked "sent" on the e-mails will be the certified/official time record for purposes of compensation. It is the employee's responsibility and word of honor to use this e-mail certified time "clock" system in an accurate manner and to strictly follow all break/rest period labor law requirements when working via telecommunication, no matter their location.
For more labor law information and in particular for Santa Rosa – Sonoma County, Ukiah – Mendocino County, or Lakeport – Lake County California, please contact the labor law lawyers at Beck Law P.C.