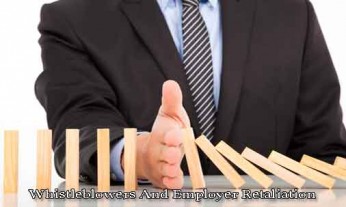 Whistleblowers and employer retaliation. Due to the expansion of the Securities and Exchange Commission's watchful eye, and the lucrative rewards program offered to employees who come forward (10% to 30% of the money it collects) lawsuits involving retaliation and whistleblowing are on the rise.
Employers need to be aware that employees are encouraged to visit the SEC's website to report claims whenever they believe their employer is failing to comply with SEC guidelines. See the excerpt below taken directly from the website:
Welcome to the Office of the Whistleblower
Assistance and information from a whistleblower who knows of possible securities law violations can be among the most powerful weapons in the law enforcement arsenal of the Securities and Exchange Commission. Through their knowledge of the circumstances and individuals involved, whistleblowers can help the Commission identify possible fraud and other violations much earlier than might otherwise have been possible. That allows the Commission to minimize the harm to investors, better preserve the integrity of the United States' capital markets, and more swiftly hold accountable those responsible for unlawful conduct.
The Commission is authorized by Congress to provide monetary awards to eligible individuals who come forward with high-quality original information that leads to a Commission enforcement action in which over $1,000,000 in sanctions is ordered. The range for awards is between 10% and 30% of the money collected.
Sean McKessy
Chief, Office of the Whistleblower
Recently, a part time employee received a substantial reward for retaliation after reporting that JC Penney was overcharging customers by collecting sales tax on non-taxable purchases.
The law is clear that whistleblowers are protected and cannot be fired for turning in a claim. Here are more recent examples:
2.2 billion, Johnson and Johnson, employees take a percentage in Risperdal whistleblower lawsuit
38 million, Extendicare Health Services, employees take percentage in fraud whistleblower lawsuit
Chicago University, 3 million dollar award to employee wrongfully fired for whistleblowing
525 million, Trinity Industries, Inc., employees take percentage in fraud whistleblower lawsuit
Playboy Enterprises, 6 million dollar award to employee fired for whistleblowing retaliation
For small businesses, complying with the SEC rules and guidelines is imperative.
Additionally, a disgruntled employee may turn you into the SEC when you may have not violated any regulations which would create increased work for your company during the SEC investigation, which could take away from your profit margin with considerable time, energy and expense on your part to defend the claim.
What we suggest moving forward:
Review work protocol to insure SEC regulations are met and sustained;
Encourage employees to come forward with their concerns and attempt remediation;
Work toward a happy, open work place culture;
Reward employees for their loyal service;
Periodically meet one-on-one with supervisors to encourage communication; discuss the "talk" around the workplace to get a "heads up" on staff morale, being ever mindful of disgruntled employees;
Try to work with employees to encourage constructive improvements in their work rather than fire them;
Provide periodic training to supervisors to avoid any conduct that may appear to be retaliatory;
Review and revise Employee handbooks with strong SEC compliance policies and codes of conduct;
Make sure SEC compliance is mandatory at all levels of your business/work model.