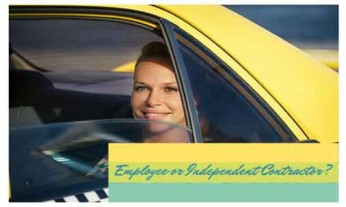 Am I an employee or independent contractor? Ridesharing company Lyft has reached a settlement agreement with California drivers who filed a lawsuit regarding their classification as independent contractors, rather than employees. The settlement requires Lyft to pay the drivers $12.25 million, but does not require the company to reclassify them as employees.
The case was filed in 2013 in the U.S. District Court for Northern California by a Lyft driver named Patrick Cotter, who claimed a variety of allegations related to wages and expenses. One of their complaints was that, because Lyft classifies its drivers as independent contractors, the drivers were required to pay for expenses such as gas and auto insurance. Cotter initially filed the lawsuit on behalf of himself and Lyft drivers nationwide, but amended the complaint to include only California drivers after the Court ruled that drivers outside of California did not have a cause of action.
The Settlement
After participating in mediation sessions, the parties agreed to a settlement. The settlement includes a $12.25 million payout which (if approved by the court) will be divided among the class of plaintiffs. The settlement also contains the following provisions:
Lyft will only "deactivate" drivers for specific reasons, rather than being able to deactivate them at will.

Before drivers are deactivated, Lyft will allow the drivers to address the concerns about their performance.

If a driver decides to go to arbitration to challenge his or her deactivation, or to address a compensation issue, Lyft will pay his or her arbitration expenses. (Lyft uses an arbitration clause in its contracts, but these clauses did not keep this case out of court.)

Lyft will create an option referred to in the settlement as "favorite driver," which allows passengers to choose drivers who will receive unspecified benefits.

Lyft drivers will be given access to information about potential passengers via their smartphones, before deciding whether or not to accept the passengers' ride requests.
The settlement does not, however, establish the drivers as employees. It contains language asserting that Lyft denies that any member of the settlement class is an employee, that Lyft denies any wrongdoing, and that Lyft denies that any of the plaintiffs' claims are valid.
The settlement has no bearing on a similar lawsuit filed against Uber by its drivers, which is on course to head to federal court in June.
Employee or Independent Contractor – The Legal Landscape
Employment lawyers, business owners, and employees around the country were watching this lawsuit, hoping that a ruling might provide some guidance on how courts will handle similar cases. The issues brought up in this case regarding the line between employees and independent contractors are relevant not only to transportation companies, but to participants in the "on-demand" economy at large.
With so much uncertainty regarding the distinctions between employees and independent contractors, business owners in Santa Rosa, Petaluma or the surrounding areas of Mendocino County or Lake County may benefit from the counsel of experienced employment lawyers, such as the attorneys at Beck Law P.C. in Santa Rosa. If you would like to schedule a consultation, they webe reached by phone or by email.