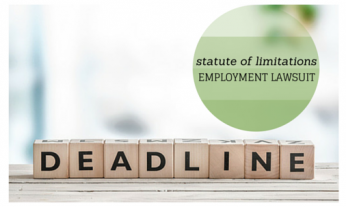 Can I file an employment lawsuit even after the one year Fair Employment and housing act one year statute of limitations? Let's say you are an employee working for a business in California, and you develop a physical disability. Your employment is terminated shortly thereafter. 15 months go by, and then you decide you want to file a wrongful firing claim.
You plan on arguing that your termination amounted to illegal discrimination based on your disability and that your employer's action violated California's Fair Employment and Housing Act (FEHA). As it happens, however, FEHA has a one year limitations period, and your firing took place over a year ago. Can you still file a valid claim?
If you guessed that filing a valid claim would be impossible, a California Court of Appeal would beg to differ. In the case of Prue v. Brady Company/San Diego Inc., it ruled that a plaintiff's lawsuit could proceed, despite the expiration of FEHA's statute of limitations, because it was a common law tort claim alleging violation of the public policy laid out in FEHA.
The Facts of the Employment Lawsuit Case
Adam Prue worked for Brady Company/San Diego Inc., and was injured on the job. His employer was informed about the nature of his injuries, and he was later terminated. He filed a claim over a year later, arguing that his termination was a violation of California public policy. Prue alleged that his manager told him that the hernia he suffered was the reason for his firing.
At trial, Brady Company filed a motion for summary judgment. The motion argued that Prue's claim was barred by a one-year statute of limitations, which had expired. The trial court granted the motion, and dismissed Prue's case.
On appeal, the Court of Appeal reversed the trial court's decision, and allowed Prue's claim to proceed. The Court held that Prue was permitted to a file his claim, because he was not actually filing a claim under FEHA, but rather a common law tort claim arguing that his termination violated California public policy, with FEHA being the statute that set forth the fundamental public policy in question.
The ruling stated that the relevant statute of limitations was the two-year statute of limitations under section 335 of the California Code of Civil Procedure. Prue's claim was filed in April 2013, less than two years after his termination in July 2011, so the Court concluded that his filing was timely.
Public Policy Claims Can Affect Your Business
Many California employers are unaware that the state allows wrongful termination claims arguing violations of public policy, and that the one-year statute of limitations that applies to FEHA claims is not necessarily the end of the possibility of litigation. If you own a business in California, it may be well worth your time to speak to an experienced attorney to ensure that you will be well protected if a claim is filed against you. The experienced employment and labor law attorneys at Beck Law P.C. in Santa Rosa are available for consultation, and you can contact them by phone or by email today.