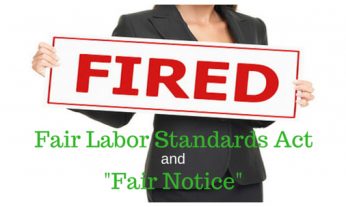 Once an employee has made a complaint under the Fair Labor Standards Act (FLSA), she is protected from retaliatory acts such as being fired for making the complaint. What if the employee never filed a formal complaint, and instead she simply alerted management to a potential Fair Labor Standards Act violation? And what if the employee was a manager? If a manager voices concerns that her company is not complying with the Fair Labor Standards Act, would it be clear that she was actually making a complaint under the FLSA, or would it appear that she was just doing her job?
The Fair Labor Standards Act Case
The Ninth Circuit Court of Appeals addressed this scenario in the case of Rosenfield v. GlobalTranz Enterprises, Inc. The plaintiff, Alla Rosenfield, was hired by the defendant, a transportation management services company, to serve as their Manager of Human Resources. She was later promoted to the position of Director of Human Resources and Corporate Training.
Rosenfield made numerous complaints to her superiors that the organization was violating the FLSA. Her boss, who saw himself as the only employee at GlobalTranz in charge of FLSA compliance, agreed to look into her concerns. Rosenfield later concluded that he had not corrected the violations and complained to him again.
Shortly afterward, he fired her. Rosenfield then filed a wrongful termination complaint, which included an allegation that her firing was retaliation in violation of the FLSA. At trial, the defendant filed a motion for summary judgment. The court granted the motion, holding that Rosenfield's complaints to management did not actually constitute an FLSA complaint. Rosenfield appealed.
Fair Labor Standards Act and "Fair Notice"
The U.S. Supreme Court has held that an employer must be given "fair notice" that an employee is making a complaint. Under this precedent, a complaint must be "sufficiently clear and detailed" that a reasonable employer would recognize it as an assertion of the rights protected by the FLSA.
Several federal courts have adopted a separate standard for complaints from managers when determining if complaints are sufficiently clear and detailed. The rationale behind this distinction is that when an entry-level employee points out a violation of the FLSA, the most obvious explanation is that the employee is asserting his or her rights – whereas a manager who does the same thing may be pointing out the violation as part of his or her job duties.
The Ruling
The Ninth Circuit sided with the plaintiff. Its decision overturned the summary judgment ruling, and remanded the case for further proceedings. The Court determined that because informing management of FLSA violations was not part of Rosenfield's job portfolio, it should have been reasonably clear to her superiors that when she notified them about FLSA violations, she was not simply doing her job.
In the ruling, the Court rejected the idea that all managers should be held to a different standard than non-managerial employees. Rather, the Court held that complaints should be resolved on a case-by-case basis, in which an employee's managerial status is one factor.
More Fair Labor Standards Act Information
Our labor and employment law attorneys can help inform you about your rights or responsibilities under the FLSA. You can contact the employment and labor law attorneys at Beck Law P.C. in Santa Rosa if you are involved in an FLSA case in Sonoma County, Mendocino County, or Lake County California.