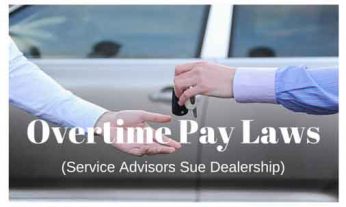 Overtime pay laws. Five employees filed a claim against Encino Motorcars, LLC because they were denied overtime pay. According to their claim, they were required to work from 7 AM to 6 PM at least five days a week. They argued that under the Fair Labor Standards Act they were entitled to receive at least one-and-a-half times their regular salary for any time they worked over 40 hours per week.
The plaintiffs worked as service advisors, which means that they encouraged the dealership's customers to buy services, accessories, and replacement parts for their vehicles. Whether such employees are eligible for overtime has been a matter of contention for quite some time.
Overtime Pay Laws – A Long History of Governmental Indecision
Congress passed overtime pay laws legislation in 1961 that exempted auto dealership employees from overtime pay. Then in 1966, Congress repealed that overtime pay laws exemption, and replaced it with a smaller exemption, which applied to "any salesman, partsman, or mechanic primarily engaged in selling or servicing" vehicles.
The U.S. Department of Labor (DOL) issued an overtime pay laws regulation in 1970 that included a definition of "salesman." It clarified that service advisors and service salesman are not exempt from the overtime statute. In 1978, the DOL reversed its position and issued a ruling asserting that service advisors could be exempt. In 2008, the DOL proposed a rule stating that service advisors are covered by the exemption.
In 2011 the DOL took the opposite stance and chose not to proceed with the rule. Instead, the DOL issued a rule which stated that the term "salesman" refers only to an employee who sells automobiles, trucks, or farm implements – which would mean that service advisors are entitled to overtime pay.
The Overtime Pay Laws Case
At trial, the U.S. District Court for the Central District of California sided with the employer. It held that under the statute passed by Congress, service advisors are exempt from overtime. On appeal, however, the Ninth Circuit overturned the ruling and agreed with the DOL's position that the overtime exemption does not include service advisors.
When the case went to the Supreme Court, the Court was presented with the issue of how much deference should be given to the DOL's interpretation of the overtime exemption statute. In its ruling, Encino Motorcars, LLC v. Navarro, the majority held that the DOL failed to meet its duty to provide a "reasoned explanation" as to why it reversed its stance. The opinion points out that the industry had relied on the prior policy to determine whether employees were exempt, and holds that while the DOL was required to show that it had good reasons for reversing its course, it instead said "almost nothing."
The case was remanded to the Ninth Circuit. The Court of Appeals was instructed to reconsider the issue without showing deference to the DOL's interpretation.
Do You Have Questions About Overtime Laws?
The Encino Motorcars ruling leaves open the question of whether service advisors are exempt from overtime under the FLSA. Unfortunately, overtime eligibility is an uncertainty for workers in a variety of other professions, as well. If you run a business in Sonoma County, Mendocino County or Lake County California and you are unsure if your employees are entitled to overtime pay – or if you are an employee in Sonoma County, Mendocino County or Lake County California and you would like to know if you have a right to receive overtime pay – you can call or email the experiences Santa Rosa labor and employment law office of Beck Law P.C.