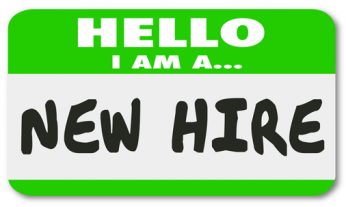 If you're a new hire at a company, it's important to know your rights and exercise them. Here are some things a new hire may not know that are definitely worth knowing.
New Hire Check List
Are you are required to wear a particular uniform? Your employer cannot force you to purchase it. Should you leave the job without returning the uniform, you may consent in advance to having the cost of the uniform deducted from your final paycheck.

Do you earn less than double minimum wage? If so, your employer cannot expect you to pay for the tools or equipment needed to perform your job.

Does your employer require medical tests, physical exams, or drug tests as a condition of your employment? They cannot require you to pay for those tests.

If your employer enacts a wage reduction or change of pay periods, notice must be provided before the change occurs.

Employers are limited as to what may be deducted from an employee paycheck to those deductions expressly required by state or federal law. This excludes:

Portions of gratuities;

Costs associated with photos or badges required by the employer;

Bonding fees;

Uniforms costs, unless as described above;

Expenses related to the termination of employment;

Expenditures related to equipment and/or tools except as described above;

Losses due to broken property, checks that bounce, or cash shortages, unless those losses can be proven to be a result of gross negligence or dishonesty.

When employees resign and give 72 hours notice or more, employers are required to pay out any remaining wages due on their last day.

If a labor dispute results in an employee's resignation or termination, all wages due must be paid by the next scheduled pay day.

For companies employing 25 or fewer workers, the minimum wage is $10.50. For larger companies, the minimum rate is $11.00.

Hourly employees must be paid at 1.5 times the normal rate for all hours over 40 in one week, and for the first eight hours worked on the seventh day of any given week. They must be paid double the normal rate for any hours exceeding 12 in one workday, and for all hours beyond eight on the seventh consecutive workday.

Employees are entitled to a 30-minute break for every five hours they work consecutively.  During that time, they are to be exempt from performing any duties whatsoever related to their employment. Employees are allowed to leave the premises during this break.
New Hire – Employment Issues?
Whether you're a new hire or have been with your employer for some time, if you find yourself questioning whether or not your employer is following the laws set forth by federal, state, or local policy, you may need the assistance of an experienced employment attorney. Do you work in Sonoma County, Mendocino County or Lake County California? Contact our knowledgeable employment law team at Beck Law P.C., in Santa Rosa for a consultation to discuss your concerns.