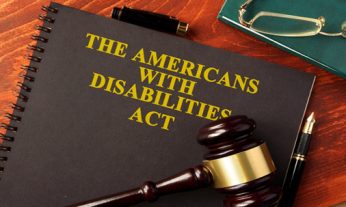 If you own a business, you are required to follow various specifications related to the Americans with Disabilities Act (ADA). Failure to do so could result in fines, accidents, loss of business, and even lawsuits. Taking note of the most common violations and working to eliminate them can save you more than a few headaches.
Frequent ADA Violations
Access is a key issue addressed by ADA guidelines. Failure to provide it is a serious problem:
Number of parking spaces: The law requires a certain minimum number of parking spaces, based on the size of the business and parking lot;

Condition of designated spaces: When handicapped parking spaces are on a slope, or when the paint is faded and difficult to see, it is a violation;

Van access not in compliance: Vans require larger spaces and/or aisles to enable wheelchair bound individuals the room to maneuver;

Signage missing: Reserved spots lack a sign designating them for accessibility;

Entry Routes inaccessible: Ramps or curbs are lacking or non-existent, or surfaces are not level;

Doorways are inaccessible: Automatic doors are not available;

Indoor access to the facility: Tables, counters, and other surfaces are not in compliance with ADA guidelines, or aisles within the building are not wide enough for wheelchairs to maneuver;

Floor space not cleared: Objects in aisles and otherwise leaving insufficient room to turn around in a wheelchair;

Bathrooms not in compliance: Problems related to missing grab bars, inaccessible sinks, towel dispensers, faucets, mirrors, hand sanitizer or soap dispensers, and toilet seat cover dispensers.
Businesses Most Often Found in Violation of the ADA
Any business is responsible to provide access for disabled individuals. Those businesses most frequented by the public experience the greatest numbers of complaints for non-compliance. In California, the data relating to complaints gives us a window into the businesses most often found to have deficits with regard to ADA accommodations:
Sales and/or rental businesses: 41% of complaints;

Food and drink establishments: 27% of complaints;

Service-oriented businesses: 26% of complaints;

Lodging establishments: 4% of complaints;
Employee ADA Training
In addition to the physical accommodations in your building, train employees about the proper way to interact with individuals with disabilities. Remember, they are people who are looking for products or services, just like anyone else. Be aware that not every disability is visible, so courteous, individualized service from your employees will benefit everyone.
Individuals with slurred speech will require patience and attention;

Those with hearing difficulties may need to see your lips moving as you speak;

Individuals of short stature may appreciate employees coming around a counter to interact;

Someone with respiratory disabilities or chemical sensitivities may have an adverse reaction to spray cleaners, air fresheners, or other toxins in the air;

Persons with psychiatric disabilities may have trouble with social cues, stressful situations, or unexpected delays.
Provide a Safe Environment
In general, employers are expected to provide a safe environment for employees and customers alike. If your business is in Sonoma County, Mendocino County or Lake County California and you need help understanding those requirements, or if you encounter an employer who does, contact the experienced employment law legal team at Beck Law P.C., in Santa Rosa. We are committed to ensuring the rights of disabled individuals are protected.