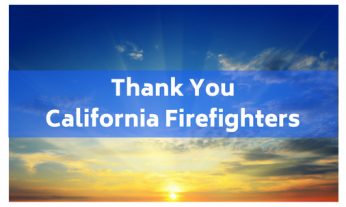 Thank you California firefighters. By July 9, 2018, nearly 200,000 acres had been scorched in California wildfires. That is more than double the amount burned in each of the previous five years. Sadly, some parts of California have been so dry this year that they were never removed from drought status from last year. As of July 30, more than 10,000 people have been mandatorily evacuated from Mendocino and Lake Counties. The Ranch Fire along Highway 20 and the River Fire north of Hopland put residents across more than 35 miles at risk. With six out of the previous seven years experiencing severe drought across the state, hot, windy conditions make fighting these fires incredibly difficult and dangerous. It has been undeniably devastating for people who live and work in the area; but what has it been like for firefighters?
Hazards for California Firefighters
The men and women who fight these enormous fires are heroes in everybody's eyes. The perils they confront as they protect Californians are many:
Thick smoke;

Winds that lead fires to change directions without warning;

Narrow roads that make traveling difficult;

Falling branches and exploding trees;

Fallen trees blocking roads;

Fatigue from working long hours;

Fallen power lines posing dangers to firefighters;

Dehydration;

Heat Stress as a result of vigorous manual labor, heavy gear, poor acclimatization to severe heat, and personal risk factors.
Work Schedules for California Firefighters
When situations are urgent, firefighters are often required to work long hours. In the case of these devastating wildfires, many of these heroes are unable to spend any time with their families and friends for days and weeks at a time. They grab sleep when at the brink of exhaustion, only to go back out to continue the demanding work again until communities are safe. While the fire season was once limited to the summer months, these days, California has deadly wildfires year-round. In the past six years, at least one wildfire has been burning during every single month of the year. While firefighters used to have the cooler months to refresh and regroup, the extended heat and drought have vaporized those opportunities.  
Injuries and Death a Constant Concern for California Firefighters
Firefighters put their lives at risk every time they confront a blaze. Consider these daunting statistics from 2016:
Over 60,000 serious injuries were incurred by individuals fighting fires;

Over half of the injuries involved respiratory problems;

There were 69 firefighters who lost their lives in the line of duty;
As of July 30, 2018, 59 firefighters have died on the job. A study of firefighter deaths indicates that firefighter fatalities for those involved in wildfires has increased by 26% in recent years. The primary causes of death between 2007-2016 include:
Aircraft accidents;

Heart attacks;

Entrapments;

Falling rocks and trees.
Thank You California Firefighters
Every day, California firefighters put everything on the line to protect the lives and property of Californians. The attorneys and staff at Beck Law P.C., thank you for your service and dedication to your profession.
(image courtesy of Marcus Kauffman)