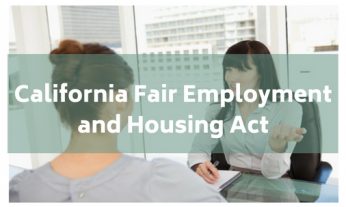 California's Fair Employment and Housing Act (FEHA) lays out the duty of employers toward their employees, as well as prohibited actions in the workplace. These policies address discrimination against individuals with disabilities, as well as other protected groups, including:
Age;

Military status;

Race;

Religion;

National origin or ancestry;

Marital status;

Physical or mental disability;

Gender, sexual expression, or sexual orientation.
Anti-discrimination rules have been on the books for years. Revisions to these policies in recent times are worth noting:
Sex Discrimination and the California Fair Employment and Housing Act
The law protects individuals from any form of discrimination on the basis of sex. This applies to both males and females and expressly covers gender identity and expression and transgender identification.
Fair Employment and Housing Act on Volunteers, Interns, and Other Unpaid Individuals
California's Fair Employment and Housing Act protects unpaid persons from discrimination, just as paid workers are. In fact, for the purposes of a harassment claim, they are considered employees.
Discrimination on the Basis of Religion
Religion may not be a factor in hiring and firing decisions. Reasonable accommodations must be made to address a worker's religious tenets. An employer may not isolate a worker from fellow employees or from customers due to religious beliefs or attire, unless it is something that is requested by the employee.
Pregnancy
Employees are entitled to as much as four months of unpaid leave in association with a pregnancy. It is not necessary to for the time to be taken in one continuous break. Furthermore, discrimination on the basis of pregnancy, breastfeeding, or other conditions associated with childbirth is not permitted.
Discrimination on the Basis of National Origin
The California Fair Employment and Housing Act does not permit employers to require employees to demonstrate that they have a driver's license except under particular circumstances:
State or federal law requires it for the position;

It is a mandatory item for the type of work required;

There is a legitimate business reason for the requirement, and all employees are held to the same standard.
Training for Anti-Bullying
Employers who employ 50 or more workers are required to provide training that encompasses key topics:
Definitions of "abusive conduct;"

Impacts of such conduct on both victims and employers;

Steps the company will take to rectify harassing behaviors, such as the policy for investigating complaints and responsive actions;

Obligations of supervisors to document claims of discrimination, harassment, and/or retaliation.
Employers must document attendance at these trainings with sign-in sheets and must keep training materials on hand.
Support Animals in the Workplace
Support dogs or other animals that are required to assist with vision issues, cognitive problems, or emotional support must be accommodated in the workplace.
California's Fair Employment and Housing Act – Protecting Employees
If you have experienced discrimination, harassment, or retaliation at the workplace, you deserve a strong legal team fighting for justice on your behalf. If you live in Sonoma County, Lake County, or Mendocino County, contact  Beck Law P.C., in Santa Rosa to arrange for a confidential consultation with our experienced legal team. The Santa Rosa office of Beck Law P.C., is located at 2681 Cleveland Avenue, just south of the Empire College School of Law and Just north of Coddingtown Mall.