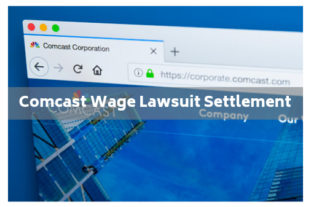 Comcast wage lawsuit settlement. On the heels of two years of litigation between Comcast/O.C. Communications and roughly 4,500 technicians, a class action suit was settled for $7.5 million plus litigation fees. The battle was over failure to pay workers for all of their hours, failure to pay for piecework, neglecting to pay overtime, and, in some cases, refusing to pay minimum wage. If you have experienced similar problems in the workplace, an efficient and knowledgeable labor law attorney may be able to help. 
Details of the Comcast Wage and Hour Lawsuit Case
According to the wage lawsuit settlement records, O.C. Communications, who teamed up with Comcast Cable Communications Management, hired a number of non-exempt cable technicians to install and maintain cable connections. The workers claimed that they were not paid for rest and/or meal breaks. In addition, they were not reimbursed after submitting detailed expense reports. These claims of underpayment were compounded by the assertion that workers' wage statements were neither itemized nor accurate.  
Workers shared personal accounts to illustrate the problems:
One employee was assigned four times his normal workload one day. His boss told him to eat his lunch while driving from one installation site to another, and get the job done without taking breaks;

Another employee was required to supply his own tools and supplies, including everything from screwdrivers and staple guns to various types of cable and drill bits.  This, in addition to work boots and pants.

One former employee asserted that working conditions were often unsafe, saying that typically workers might climb 28-ft. ladders and shimmy through confined spaces like attics all in the same day. Oftentimes, buildings were rat-infested and crawl spaces were littered with rat feces. Nonetheless, workers were not given protective equipment.

Mandated overtime was the biggest complaint for another employee, who said 12-hour days were the norm, adding up to 60-hour work weeks on a regular basis.
Reaching a Settlement
The court refused to sanction the original settlement agreement for a number of reasons:
Judge Chhabria believed the claims to hold "substantial merit," and the labor code violations appeared to be a

systemic problem

for the defendants.

The settlement involved an amount that was well below what employees were entitled to, and the judge was reluctant to give the companies such a big break unless there was evidence that their business practices would be brought into compliance with Labor Codes.
Ultimately, the parties did settle, and the $7.5 million will be divided among the 4,500 workers who formulated the class action.
Wage and Hour Disputes 
Although California labor laws may be complex, the basics are pretty clear: Employees must be paid for the hours they work, they cannot be forced to work through meal or rest periods, and they must be compensated at a higher rate for overtime. Furthermore, they are entitled to work in a safe environment, meaning they can expect to have the necessary equipment to complete the job without undue risk to their health and safety. If you, like these workers, believe your employer falls short of these basic requirements, the experienced labor law Attorneys at Beck Law P.C. can help. If you work in Sonoma County, Mendocino County, or Lake County California, contact our Santa Rosa office to schedule a confidential consultation today.