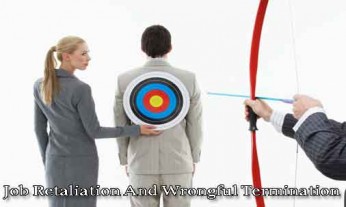 California job retaliation and wrongful termination laws. Under California state law, it is illegal for an employer to retaliate against any employee who has provided information to law enforcement or government agencies, or engages in other protected activities. Employment retaliation can take a variety of forms including an employer's decision to demote, terminate, fire or conduct some other negative act against an employee because that employee has exercised an activity protected by federal or state law. Most often employment retaliation occurs when an employee becomes a whistleblower by reporting an employer's activities that are in violation or public policy or law, or is otherwise considered illegal. Under the California Labor Code, an employer is prohibited from taking any adverse, negative action, or any other form of discrimination in response to an employee:
Reporting discriminatory acts and other illegal activity that have occurred in a workplace controlled by the employer;
Participating in a labor union and other activities related to collective bargaining and/or an employee's right to freedom of association and expression;
Complaining about the state of the workplace facilities and/or working conditions;
Participating in investigations and/or filing suit against an employer;
Filing a complaint against an employer with California's Division of Labor Standards and Enforcement (DLSE).
CA Law Regarding Job Retaliation and Wrongful Termination
The most common form of employer retaliation is the wrongful termination of an employee who has engaged in activities protected by the federal and state government. Here in California, employment relationships are presumed to be at will, which means that the employment relationship can be terminated by both the employer and employee at any time without the consent of the other party. However, there does exist an exception to the at-will employment presumption, which provides that employers can be found guilty of wrongfully terminating an employee when that employee has been discharged for "performing an act that public policy would encourage or for refusing to do something that public policy would condemn." Under this exception, a California employee who is discharged because of these reasons can bring suit against the employer in order to receive damages and compensation for the wrongful discharge. However, this exception does not apply when the parties have a pre-existing employment contract that allows employment termination based on cause or because of specific reasons previously outlined in the employment contract.
An employee can bring a wrongful termination claim by asserting that the employment discharge violated federal law, public policy or California state law. Typically, wrongful termination suits are brought under the California Fair Employment and Housing Act (FEHA), which allows employees to bring suits against employers. However, the FEHA cannot be used to bring suit against an organization's managers, supervisors and other employees. A complaint alleging discrimination or retaliation in the workplace must be filed within six months following the occurrence of the alleged activities. However, complaints filed under California Labor Code section 230.1 and 230 (c) can be filed within one year following the alleged retaliation or discrimination. Complaints of employment retaliation and discrimination are filed with the DLSE.
If you believe you have been the victim of employment retaliation or discrimination you should contact one of the labor and employment attorneys here at Beck Law P.C. here in Santa Rosa, California today.