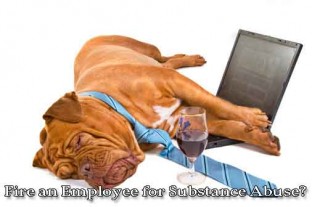 Is it discriminatory to fire an employee for substance abuse? Most employers and employees would probably agree that it's reasonable to fire an employee for getting drunk on the job. But what about firing an employee because you learned that she belongs to Alcoholics Anonymous?
Under both the Americans With Disabilities Act (ADA), and California's Fair Employment and Housing Act (FEHA), the latter would be considered a form of employment discrimination. It is discriminatory to fire an employee (or subject an employee to any adverse employment action) because of the employee's alcoholism and/or drug addiction. However – and this is a very important "however" – these statutes only apply if the employee is in recovery. They do not apply if the employee is currently abusing drugs and/or alcohol.
Past Substance Abuse vs. Current Substance Abuse
Generally speaking, these statutes prohibit employment discrimination that is based on an employee's past substance abuse. This may sound simple and straightforward – but like so many aspects of the law, it can get rather complicated.
For example, can an employee be fired for legally using medical marijuana? What if an employee fails an employer's drug test, and then applies for a position later? What if an employer finds out that an employee used drugs a few weeks ago – does that count as current substance abuse? Or could the employee argue that he's now in recovery, and he was fired for his past substance abuse? These are the kinds of issues that federal courts, and California courts, have been trying to resolve for years.
Medical Marijuana: While California allows the use of medical marijuana, the language of the FEHA makes it clear that it does not prohibit employers from discriminating on the basis of medical marijuana use. The ADA does not protect the use of medical marijuana, either.
Discrimination Based on Previous Failure of an Employer's Drug Test: The Court of Appeals for the Ninth Circuit (which includes California) ruled on this issue in the case of Lopez vs. Pacific Maritime Association. The case involved a man who applied for a job in 1997, and was given a drug test. He failed the test, and wasn't hired. In 2004, after becoming sober, the man applied for a job with the same employer, and was rejected because of the drug test he failed in 1997. The employer had a "one strike" rule, meaning that it refused to hire anyone who had ever failed a company drug test.
The Court ruled that the employer was within its rights to reject the applicant. The ruling held that the discrimination was based on his failure of the drug test, not his drug addiction itself.
How recent "current" drug use can be: The Equal Employment Opportunity Commission has clarified that the ADA has no specific rule regarding how much time must elapse before an employee's substance abuse can be considered "past" substance abuse. These matters must be decided on a case by case basis. However, substance abuse that has taken place less than a month ago is generally considered to be current.
Ensuring Compliance
If you are an employer, and you ask your employees if they have ever been treated for substance abuse, you may be violating both state and federal law. If you have any concerns that you may not be in full compliance with the ADA and the FEHA, you may wish to speak to an attorney. The employment and labor law attorneys at Beck Law P.C., in Santa Rosa, will be able to answer your questions. You can call or email our office today.