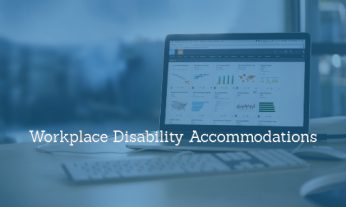 Disability accommodations – Moore v. Regents of the University of California. Let's say that an employee approaches his or her manager, and asks for disability accommodations. And, let's say that the employee does not actually have any conditions that qualify as a disability under California's Fair Employment and Housing Act (FEHA). In this case, can the employee be protected by FEHA if the employer refuses to consider granting the disability accommodations?
The answer, according to a California appeals court, is yes. In the case of Moore v. Regents of the University of California, the Court of Appeals of California for the Fourth District, Division One, found that an employer's unwillingness to engage in an interactive process with an employee who requested an accommodation could constitute a violation of FEHA – even if the employee did not have a condition that meets FEHA's definition of a disability.
Did the University of California Violate an Employee's Disability Accommodations FEHA Rights?
Deborah Moore worked in the Marketing and Communications Department of the University of California San Diego. After she was diagnosed with idiopathic cardiomyopathy, she informed her employer. She was later demoted, and eventually, her position was eliminated.
Moore filed a complaint asserting that UCSD discriminated against her on the basis of a disability, in violation of FEHA. She alleged, among other claims, that UCSD failed to accommodate her disability. She also alleged that UCSD failed in its duty, under FEHA, to engage in a "timely, good faith, interactive process" with an employee who has requested accommodation for a disability.
The trial court that originally handled Moore's case dismissed her complaint. It held that Moore did not have a disability that required disability accommodations under FEHA, and thus UCSD did not have an obligation to engage in an interactive process with her.
However, the appeals court disagreed. The court held that it is possible for an employer to violate FEHA by refusing to engage in the interactive process with an employee who claims to require disability accommodation, even if the employee ultimately was not entitled to disability accommodations.
According to the ruling, if an employer regards an employee as having a disability, then the employee is entitled to make a FEHA claim, on the grounds that the employer failed to engage in the interactive process. The Court held that the point of this process is to find appropriate accommodations for employees who have conditions that are considered disabilities under FEHA, or for employees who are merely regarded as disabled by their employers.
The Court held that it would be reasonable for a finder of fact (such as a judge or jury) to conclude that UCSD regarded Moore as disabled. On this basis, the Court ruled that the trial court had erred in granting summary judgment on Moore's cause of action related to failure to participate in the interactive process.
Would You Like to Know More About Disability Accommodations?
If you have any questions related to disability accommodations, you can contact the employment and labor law attorneys at Beck Law P.C. in Santa Rosa by phone or by email.