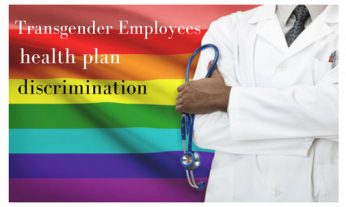 Robinson v. Dignity Health When does a health plan discriminate against transgender employees? A complaint has been filed against the San Francisco-based company Dignity Health on behalf of one of its employees, a transgender nurse. The complaint alleges that his employer categorically discriminates against transgender employees on the basis of their gender by denying coverage of their health care expenses related to gender dysphoria.
The plaintiff, Josef Robinson, works as a nurse at a medical center in Arizona operated by Dignity Health. Robinson was assigned the sex of female at birth, but identifies as male. He sought coverage through his employee health plan for health care related to gender dysphoria, including hormone therapy treatments and double mastectomy surgery.
However, the Dignity Health Plan denies "treatment, drugs, medicines, services and supplies for, or leading to, sex transformation surgery." As a result, Robinson has paid out of pocket for his hormone therapy treatments, and his request for pre-authorization for double mastectomy surgery was denied. The denial letter stated that the Dignity Health Plan's exclusion of expenses related to sex transformation surgery means that all treatments related to the diagnosis of gender dysphoria are excluded. After learning about this denial, Robinson cancelled the surgery.
Allegations of Transgender Employees Discrimination                          
After Robinson was denied coverage, Dignity Health was asked to revise its policies regarding medical expenses related to gender dysphoria. The company responded that it would look into the matter, and later issued a statement expressing that it determined that there was no evidence of discriminatory practice in the health plan. Robinson then filed a charge of discrimination with the Equal Employment Opportunity Commission (EEOC), alleging that these policies discriminate against transgender employees on the basis of gender. This led to the ACLU filing a complaint against Dignity Health in the U.S. District Court in San Francisco on June 6, 2016.
The ACLU's complaint argues that denying coverage for health care related to gender dysphoria is a form of gender discrimination in violation of Title VII of the Civil Rights Act of 1964 because it discriminates based on gender nonconformity. The complaint also argues that the denial of coverage is a violation of the Affordable Care Act, which states that covered entities providing health insurance may not categorically exclude all health services related to gender transition.
In May 2016, a judge in Minnesota dismissed a federal lawsuit filed against an employer by an employee whose teenage son was denied health care coverage related to gender dysphoria. In that case, the complaint was rejected on the grounds that the employee was the wrong defendant because she did not personally suffer discrimination.
What Employers Should Know About Transgender Employees and Health Care Discrimination

Employers should be aware that their policies related to gender identity can lead not only to complaints that they violated laws specifically protecting transgender employees from discrimination, but also to complaints that they violated laws against gender discrimination in general. If you have any questions about your company's policies, you can call or email the office of the employment and labor law attorneys at Beck Law P.C. in Santa Rosa.
BECK LAW P.C. – SANTA ROSA – PETALUMA – UKIAH – LAKE COUNTY