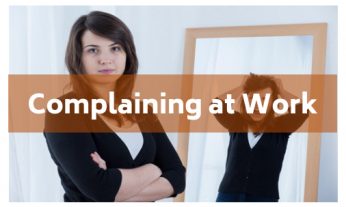 Can I be fired for complaining at work? Let's say you have a complaint about how things are going at work. If you are under the impression that free speech is a God-given right to which you are entitled anytime, anywhere, you are wrong. Although the Fair Work Act makes it illegal to fire someone just for complaining, your employer can limit certain speech in terms of the time and venue in which you express your complaints.
Complaining at Work – Google Drops the Hammer
James Damore was—emphasis on was—an employee at Google. That is, until he posted a lengthy document about the company's efforts to improve diversity among employees on a company platform. His views were allegedly steeped in sexism, and were offensive to fellow employees, who refused to buy into the notion that the biological superiority of men was the cause of the gender gap in the technology industry. Whether you agree with Damore or not, the legal issue centers on an employer's right to control speech on a platform paid for by the company. As it turns out, although public and government entities are not allowed to restrict your free speech, the same is not true for private companies. So, how do you, as an employee, know what the rules are when it comes to expressing yourself?
Does Your Company Policy Cover Complaining at Work?

When Google CEO Sundar Pichai responded to Damore's post, he specifically referred to the code of conduct at Google. Most companies have an employee handbook that details expectations related to this type of thing, and they generally close by stating that failure to abide by the company's expectations can lead to disciplinary procedures, and, potentially, termination.  It would behoove employees to be clear about company policies.
Know What You are Talking About
Damore was taking the company to task for policies promoting diversity, but his point became lost in controversial statements that have been scientifically disproven. His complaint became weak and his argument ineffectual.
Complaining at Work – Protect Yourself
If you have legitimate complaints about the job, there are some things you can do to ensure your complaining at work is heard without resulting in unemployment:
Formalize the complaint: Whether that means inviting a union representative, scheduling a meeting with management or HR, or simply writing your issues on a workplace form, demonstrate that you are serious about a workplace issue.

Assemble prior performance reviews and other documentation that may rebut allegations against your job performance in the event the complaint ruffles some feathers.

Offer constructive criticism, and, if possible, tell management what you would like to have happen.

Handle yourself professionally. Your supervisor will have a tough time saying you have an attitude problem if you do.

Document the interaction. If your complaint is related to discrimination or other legal issues and the company fails to respond appropriately, they could be facing legal trouble.
How to Handle Complaining at Your Workplace?
If you have genuine complaints that are not being addressed at work, make sure you are aware of company policies regarding reporting issues. If you believe you have been unjustly fired for complaining at work, or if the company has failed to deal with legitimate issues, the Santa Rosa employment law team at Beck Law P.C., may be able to help. Contact us in Santa Rosa for a confidential consultation today. Beck Law P.C., is at 2681 Cleveland Avenue, south of Trader Joe's and north of Coddingtown Mall.