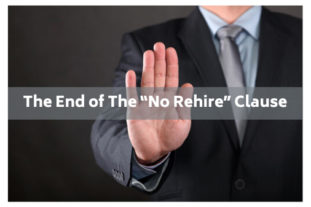 Have you been forced to sign a no rehire clause in order to settle a workplace dispute? When California Highway Patrol analyst Camryn Fields experienced sexual harassment at work, she followed company protocol and reported the issues to her supervisors. They, in turn, did nothing to quell the problem, leading Fields to seek legal redress. California Highway Patrol eventually settled the suit, and included in the final documentation a no rehire clause. It meant that Fields could not find work in any related state agencies after signing the agreement, which led her to a senate hearing where she bemoaned the unfairness of the double victimization. 
What is a No Rehire Clause?
As the name implies, a no rehire clause bars employees from future employment with an entity following her departure. In Field's case, even other government agencies were empowered to dismiss her applications without consideration because she had signed such an agreement.
California's Ban
In October 2019, Governor Gavin Newsom signed AB-749 into law, banning the use of these clauses after an individual has settled an employment dispute. While individuals who have engaged in sexual assault or harassment may be barred from future employment with an entity, a victim of such cannot. The law takes effect in January 2020, and faces stiff opposition from the California Chamber of Commerce. Their fear is that employees fired for legitimate reasons will be able to claim that they were retaliated against if they are not rehired down the road.  Nevertheless, employers should take the law seriously, and revise any agreements accordingly in the new year. The details of the bill have provisions banning the following:
Contracts of any kind that restrain individuals from lawful employment;

Settlement agreements that limit an aggrieved individual's right to work for an affiliate or subsidiary of a parent company, in another division of an employer's business.
Who is Not Protected by AB-749?
Limited options are available for employers who are unhappy with the new law. No Future Employment provisions may be included in agreements if there have not been legal claims initiated by the aggrieved party, which is someone who has filed a claim in any of the following places:
A court;

An administrative agency;

Through an employer's complaint process;

Any formal forum used to address disputes.
Other instances where rehire ineligibility may be legal include when there is documentation of an employee's misconduct or subpar job performance, or when there is reasonable evidence that the employee engaged in sexual assault or harassment. [Read more…]