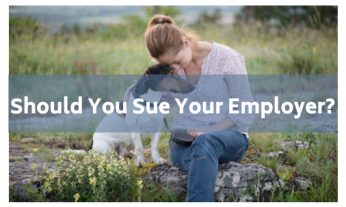 Should you sue your employer? Plenty of people dislike their jobs. Sometimes it is because of the work itself, sometimes it is due to personnel issues, and sometimes it is because of a toxic work environment. When does simple disgruntlement become a legitimate reason to sue your employer? Every situation is different, and only an experienced employment attorney can answer that question for you.
Common Reasons to Sue Your Employer

Suing an employer is a pretty bold move, but all too often it is justified, and is the only way employees can be empowered to regain the dignity, wages, and satisfaction they deserve after mistreatment on the job.  Here are just a few of the most common reasons employees decide to fight back against unscrupulous employers:
Firing without giving a reason: Some employers think that just because California is an at-will state, they can terminate anyone without providing an explanation. What they do not realize is that if they fail to explain the motivation behind their decision, the employee may rightfully suspect the termination is based on discrimination, retaliation, or some other unsavory factor. This can land the employer in court pretty quickly.

Claiming poor performance when the evidence says otherwise: If an employee has a long track record of satisfactory job performance and things suddenly change due to new management or some other issue, defending the termination will be tricky against a

skilled prosecution team

.

The timing for termination stinks: When an employee files some sort of complaint with HR, Workers' Compensation, or another work-related entity, and is suddenly on the firing line, it may not be too difficult to connect the dots.

Delaying the investigation for a complaint: If the employer drags out an investigation about harassment or some other issue, it can become ammunition in a lawsuit;

Ignoring company policies: When policies are on the books, employees can expect their bosses to follow them. If that does not happen, the end result may be a lawsuit.

Discrimination: State and federal laws offer protections for employees based on a number of circumstances, including race, age, gender, disability, sexual orientation, pregnancy, and religion. When employers discriminate in the hiring, training, pay, promotion, or termination of individuals based on a protected status, it is simply a lawsuit waiting to happen.

Failing to accommodate: In addition to discrimination based on protected status, failing to provide reasonable accommodations is unlawful. Whether in regards to requirements related to attire, schedules, physical surrounding, job requirements, or other simple adjustments, employers must comply with

EEOC

rules.
If You've Decided to Sue Your Employer
If you have been unfortunate enough to work for an employer who disregards the law, there is no need to suffer in silence. At Beck Law P.C., we will go to bat for you. If you work in Sonoma County, Mendocino County, or Lake County California, contact our Santa Rosa office to schedule a confidential consultation today. Beck Law P.C., is located at 2681 Cleveland Avenue, south of the Empire College School of Law and north of Coddingtown Mall.