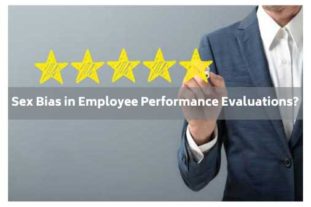 The sex bias referred to in this article may actually surprise you. Sometimes it is difficult to know precisely what is expected in the workplace. You would think that performance evaluations are generally a good indicator of just how well you are performing.  Unless they are not. 
The Sex Bias Study
Researchers studied supervisor responses to essays written by an unknown author. They then were asked to judge the writing on several criteria, with essays appearing to have been written by either Sarah or Andrew. When supervisors assumed the work was done by a female, truthful remarks were rendered less than 10% of the time. In contrast, when essays were presumed to have been written by males, truthful comments were given in more than 90% of cases. In fact, females were given feedback that consisted of outright lies in two-thirds of cases, compared to just 33% of males being given similar feedback.
Why it Happens
Are supervisors acting with ill-will with regard to their female employees? One strategist from a California-based consulting firm believes bosses tend to water-down reviews for female employees in an attempt to salvage relationships and preserve feelings. Females are viewed as less capable of taking hard truths, so employers lean toward soft-selling difficult information. Despite best intentions, it is extremely harmful to women in the workplace.
Why it Matters
It turns out that generally speaking, supervisors give women more positive feedback than they give their male counterparts, and it is often much less honest. Why does it matter? If you are not getting the constructive criticism you deserve from your boss, chances are it will impact your ability to progress and move up the ladder. This formerly unstudied issue has likely led to restricted access in the workplace for women across careers simply because they are not made aware of the shortcomings in their daily performance. In fact, it could be viewed as a form of gender discrimination.
A number of studies indicate that, although females receive fewer negative comments related to their work, and more praise, they are also given significantly fewer resources with which to perform their jobs. Certainly, the connection between feedback and being allocated the means to do a job well are a real problem. 
Meaningful Feedback Matters
Researchers note that all employees, regardless of gender, deserve to be given accurate feedback.  Positive, but untrue comments about a woman's performance in the workplace are a serious problem, whether or not they are benign in delivery.  
Do You Want the Truth?
If you are a woman who feels she has been passed over time and again, but who has outstanding job reviews, is it possible that your performance reviews are not indicative of the perception management really has of you? If you believe this may be an issue in your place of work, the experienced employment attorneys at Beck Labor & Employment Law can help. If you work in Lake County, Mendocino County, or Sonoma County, contact us in Santa Rosa today to schedule a confidential consultation.