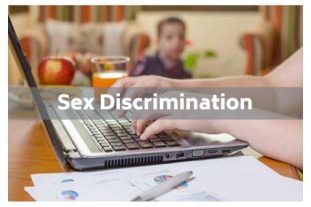 Sex discrimination is a pervasive problem in America. Over 40% of female workers indicate that they have experienced on-the-job discrimination due to their gender. This discrimination occurs regardless of experience, education, or age. Bias and discrimination in the workplace occur in a number of ways, and include a range of unacceptable behaviors, such as: 
Lesser earnings than male counterparts for essentially the same work;

Being treated as incompetent;

Being subjected to seemingly insignificant slights on a regular basis;

Getting less support from superiors;

Being overlooked when it came to promotions or projects;

Being denied job positions all together.
Consider the case of a California woman who attempted to make telecommuting  work, only to experience sex discrimination from her employer: 
When Drisana Wallace was let go from her position as an account executive at the insurance firm HUB due to a reduction in staff, she suspected the company was playing fast and fancy with the facts. She quickly filed a lawsuit against the company detailing her experience and claiming bias and sex discrimination were the real reasons behind her termination. 
Pandemic Accommodations 
Due to the pandemic, Wallace was allowed to perform duties from her home in San Diego.  According to her claim, her supervisor, Daniel Kabban, had a number of complaints about her job performance. In particular, Kabban did not appreciate the fact that Wallace was caring for two young children at home while working, one of whom was still nursing. Despite her best efforts to manage all of the demands of her busy schedule, including working at night when the children were asleep, Wallace fielded complaints from her employer that sometimes her children could be heard in the background on phone calls. Wallace contacted human resources in an attempt to get direction on how to deal with the situation, and was advised that the company anticipated that their managers would deal with situations with more flexibility. She felt better, but not for long.
According to Wallace, Kabban continued to schedule calls for her during times when her children were active, making it impossible to keep them from being heard. Sometimes he assigned her tasks that were on an expedited turnaround schedule, and he was displeased when she was unavailable to accept them. Wallace accuses Kabban of repeated sexist comments, and asserts that fathers who worked from home were not held to the same standard that she was.
When she contacted HR again, she was laid off. She believes the company is hiding behind the pandemic to justify getting rid of an employee who required some basic scheduling accommodations that any man would have been granted without a second thought.  [Read more…]