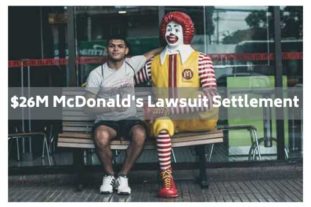 After years of legal wrangling, a McDonald's lawsuit was settled in November of 2019. This McDonald's Class action lawsuit was first filed back in 2013. In this McDonald's class-action lawsuit, workers claimed that the employer had wrongfully underpaid cashiers and cooks in California. It is yet another prime example of a big corporation that was brought to heel by the courts after engaging in unfair business practices. If you feel your employer may be bending the law at your expense, seeking the help of a local labor attorney may be a good move.
The McDonald's Lawsuit
McDonald's employees had several specific claims against the fast food giant:
Workers' shifts were structured so as to deny overtime pay to employees.  The company claimed that if a shift was split up within a 24-hour period, the worker was ineligible for overtime.  So if an employee worked from 9 pm. to 3 a.m. on one shift, and worked from 3 p.m. to 9 p.m. in a successive shift, McDonalds refused to pay overtime despite 12 hours of work in a 24-hour period.

Breaks were allowed only at the beginnings and ends of shifts, not in the middle when business picked up and when workers could use the rest;

Employee uniforms were required to be cleaned and ironed, but employees were not given compensation for their care, particularly when clothing was damaged due to grease and smoke in the workplace.
Seven years of this McDonald's lawsuit negotiations finally resulted in a truce of sorts.  A settlement, which must still be approved by a judge, serves to both address past employee complaints and ensure compliance to the law in the future.  The agreement has a number of requirements for the corporation:
McDonalds' must pay overtime, and have an electronic tracking system for breaks and wages;

Rest breaks must be provided during workers' shifts, not just at the beginning or end; the company agreed to fork over a one-hour wage premium in the event a meal or rest break is interrupted and employees are asked to work.

The employer must replace uniforms following normal wear and tear or damage from the work site.
Although McDonald's admitted no wrongdoing, nearly 40,000 California employees are reaping the benefits of the $26 million settlement, along with coming changes to daily practice.
The company issued a statement that claims they believed employment practices always complied with labor laws in the state.  Nonetheless, it is working to improve training programs for restaurants owned by the company in an effort to encourage strict compliance with legal requirements. [Read more…]