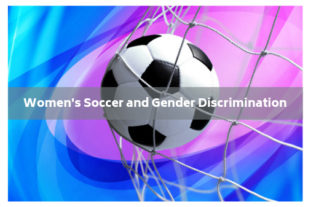 After winning the World Cup title, the U.S. women's soccer team has amassed a huge amount of support as they fight for equal pay and better working conditions. Their claim of the institutionalized gender discrimination dominating the sport for years will now be heard in a Los Angeles courtroom. 
Specifics of the Women's Soccer Claim
While the obvious complaints around pay inequity are well publicized, the women assert a number of other discriminatory problems, including:
Where they are allowed to play;

The number of games played;

The quality/quantity of medical treatment and coaching available;

Travel arrangements for away games.
The suit against U.S. Soccer is a prime example of similar struggles in the world of women's sports in this country. W.N.B.A. players and American hockey players have all been struggling to improve working conditions and salaries for women for years, and have been coordinating with the U.S. soccer players and their union to bolster the efforts.
Equal Pay Grievances Aired
Taking the lead in speaking up for the women's team is Megan Rapinoe, the team's captain. She notes that the women's team plays more games than the men's team, and has a significantly better record. Nevertheless, they have spent decades getting far less pay than the men's players.  The problem extends beyond U.S. Soccer. FIFA, the world-wide governing body for soccer, has been charged with a number of discriminatory actions, involving issues related to World Cup bonuses and standards for referees to soccer fields made of artificial turf. FIFA has responded by doubling World Cup prize money for women and by eliminating play on artificial turf for the past couple of years. The women were also afforded the luxury of flying on a chartered plane for the tournament, and provided improved meal and accommodation stipends.
Nothing Simple Here
Although many people agree that equity is essential in the world of sports, some point out that the contracts for men and women are very different, and it is not a simple apples-to-apples comparison. Even if the contracts were identical, women's sports are simply not as popular or as profitable as their male counterparts' games, and that is a fact that must be part of any compensation calculation, according to the naysayers on the other side of the argument. Yes, women work just as hard and experience incredible success. But ticket sales directly connect to compensation, and therein lies the rub.
That being said, does it make sense that the prize money for the men's World Cup is nearly 10 times the amount for the Women's championship? The women answer with a resounding no. It remains to be seen how the court will respond to these complicated issues. [Read more…]