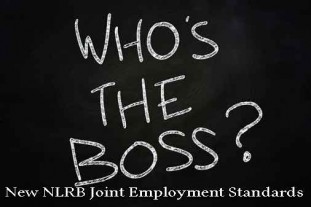 The National Labor Relations Board (NLRB) has issued a ruling that adopts a new definition of joint employment. The case revolved around a California labor dispute – but the more expansive definition of joint employment laid out in the decision is expected to have a significant effect on labor cases around the country.
The labor dispute case involved Browning-Ferris Industries of California (BFI), which operates a recycling facility in Milpitas, and Leadpoint Business Services, which provides BFI with employees. A union, Sanitary Truck Drivers and Helpers Local 350, sought to represent the sorters, screen cleaners, and housekeepers who work at the facility. The Union argued that BFI and Leadpoint were joint employers of the employees in question.
A regional director of the NLRB issued a decision stating that Leadpoint was the sole employer of these employees. The ruling used the NLRB's previous definition of joint employment, which focused on whether the employers exercised the right to control workers in a direct, immediate way (rather than a limited and routine way).
The NLRB's Reversal on Joint Employment Standards

The NLRB overturned the Regional Director's decision and found that BFI and Leadpoint are joint employers. The NLRB concluded that it is relevant whether a putative employer has the authority to control the terms and conditions of employment, even if the employer does not actually use that authority. The NLRB's ruling clarifies that the correct test for whether joint employment exists is "whether one statutory employer possesses sufficient control over the work of the employees to qualify as a joint employer with another employer."
Under the ruling, entities are considered joint employers if:
They are both employers within the meaning of the common law, and

They share or codetermine those matters governing the essential terms and conditions of employment.
The factors that the NLRB examined in order to determine the answers to these questions included hiring, firing, discipline, supervision, direction of work, hours, and wages. After considering these factors, the Board concluded that BFI shared and co-determined the terms and conditions of employment, and thus, was a joint employer along with Leadpoint.
Why the Joint Employment Standards Change?
The ruling states that the new standard was previously used by the NLRB and courts for years, and that it is based on the common-law definition of an employment relationship. According to the opinion, the common-law test for an employment is based on the right to control and not on whether that control is exercised.
The ruling argues that the previous standard was significantly narrower than the common-law standard. It also states that, under the old standard, employees could be deprived of their right to bargain effectively simply because there were two employing firms involved in their work arrangements instead of one. [Read more…]