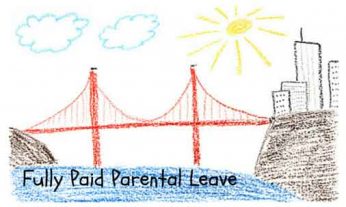 The San Francisco Board of Supervisors has approved a new paid parental leave law that will allow employees to take up to six weeks of fully paid time off from work to be with a new child. The new paid parental leave legislation is the broadest of its kind in the United States.
What the Fully Paid Parental Leave Law Entails
Some of the most important features of the legislation are as follows:
Covered employees will be able to take the six weeks of fully paid leave to spend time with a newborn child, a newly adopted child, or a new foster child.
The law is intended to supplement the benefits that employees receive through California Paid Family Leave. California Paid Family Leave allows covered employees to receive 55% of their pay for as much as six weeks of family leave. The new legislation compensates employees with the remaining 45% of their salaries during that period.
Employees will not be covered unless they began working for their employers at least 180 days before the beginning of their leave periods, and they work at least 8 hours per week within the city of San Francisco, and they are eligible for California Paid Family Leave for the purpose of "bonding with a new child." (If an employee's work hours fluctuate from week to week, a determination will be made based on the average number of hours he or she has worked per week throughout the past three months.)
If an employee works for more than one employer, the employer's share of that employee's benefits under the new parental leave law will be based on how much of the employee's salary is paid by each employer. (This means that if a covered employee earns 60% of his or her salary from a particular employer, that employer will be required to pay 60% of the employee's supplemental benefits.)
If an employee voluntarily quits a position less than 90 days after the end of his or her leave period, the employee must reimburse the employer for the full amount of the benefits that the employee received under the new law. In addition, before receiving these benefits, an employee must sign a form agreeing to pay back the full amount of the benefits if he or she quits within 90 days of the end of the leave period.
The law will go into effect on January 1, 2017 for employers with 50 or more employees. It will go into effect on July 1, 2017 for employers with 35-49 employees, and on January 1, 2018 for employers with 20-34 employees.
Covered employers will be required to post a notice explaining the law's provisions. The notice must be written in English, Spanish, Chinese, and any other language that is spoken by at least 5% of the employees at the location. [Read more…]