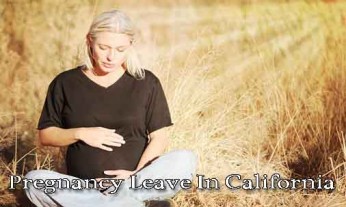 Looking for information on pregnancy leave in California? Pregnant employees are protected by the Family and Medical Leave Act (FMLA), a federal law that guarantees medical leave for eligible workers. (The FMLA also guarantees medical leave for workers in other situations, such as when an employee's spouse, child or parent has a serious health condition).
Most employers are familiar with the provisions of the FMLA, particularly the requirement that eligible employees must be permitted to take up to 12 workweeks of leave in a 12-month period for the birth of a child, and for caring for the child during its first year of life. (The requirement also applies to employees who adopt children or become foster parents, who are eligible for the work leave within one year of the placement of a child.)
Unfortunately, some California employers are unaware that pregnant employees also have protections on the state level. The California Family Rights Act (CFRA), which provides many of the same protections as the FMLA, is just one of the state laws that provides benefits for workers who are pregnant, and/or have new additions to their families.
California Pregnancy Disability Leave Act

Under California's Pregnancy Disability Leave Act (PDLA), an employee can take up to four months off from work due to medical conditions related to pregnancy, with a guarantee that their job will be protected. This leave time can be taken intermittently – meaning that an employee does not have to take all of this leave time at once. Another important element of this legislation is that an employee who is taking pregnancy disability leave is entitled to continue receiving any health benefits that they typically get through their employer.
Workers are eligible for pregnancy disability leave if they work for employers with five or more employees. Many employees who are ineligible for the protections of the FMLA and the CFRA are covered by the PDLA.
Family Temporary Disability Insurance
California also has a program that provides temporary insurance benefits to workers who take leave for certain family-related reasons – including employees with new children. The provisions of the program, which is called Family Temporary Disability Insurance (FTDI), are laid out in Section 3301 of California's Unemployment Insurance Code.
FTDI allows eligible workers to receive up to six weeks of wage replacement benefits if they take time off from work to care for a child who was born within the past year, or for a child who was placed with them via adoption or foster care. The amount received per week is based on the employee's salary.
Responding to Pregnancy Leave Discrimination
If you are pregnant, or recently had a child, and your employer has denied you the rights to which you are entitled under federal or California law, it is important that you seek legal advice as soon as possible. The employment and labor law attorneys at Beck Law P.C. in Santa Rosa have handled many cases over the years dealing with the rights of employees with families. You can call or email our office today to schedule a consultation.