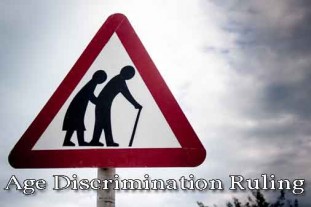 The Ninth Circuit Court of Appeal's age discrimination ruling in the case of France v. Johnson, has overturned a District Court's ruling on a federal age discrimination complaint. The Ninth Circuit's decision, which was issued on August 3, 2015, sets an important precedent for how Ninth Circuit courts must handle claims arising under the Age Discrimination in Employment Act (ADEA).
The decision includes the following holdings:
If an employee files an ADEA complaint after being turned down for a promotion and the claimaint is less than 10 years older than the employee who received the promotion, then there is a rebuttable presumption that the difference in age is insubstantial. However, if there is an age difference of 10 years or more, then there is a rebuttable presumption that the difference in age is substantial. (This is the standard that has previously been applied by the Seventh Circuit.)

If someone involved in making an employment decisions makes a discriminatory remark, it can create a genuine dispute of material fact regarding pretext even if the person who made the remark was not the final decision maker.

The Ninth Circuit Court of Appeal's previous declaration that circumstantial evidence relied upon by a plaintiff must be specific and substantial is tempered by its stance that the burden a plaintiff faces in raising a triable issue of fact is "hardly an onerous one."
The Age Discrimination Case
The claim was filed by John France, a border patrol agent who works for the Department of Homeland Security. France applied for a promotion to a GS-15 position and was the oldest of 24 applicants. (He was 54 at the time, and the youngest applicant was 38.)
When France was not one of the six top-ranked candidates and thus was not eligible for final consideration, he filed a complaint under the ADEA. He argued that he had evidence of age discrimination, because one of the decision makers commented that he wanted to hire "young, dynamic" employees.
At trial, the decision makers argued that there were several nondiscriminatory reasons why France was not promoted, including poor leadership and judgment skills. The district court granted summary judgment to the Department of Homeland Security. The court's ruling stated that France successfully established a prima facie case of age discrimination, but could not show that there was a genuine dispute of material fact regarding the agency's purported nondiscriminatory reasons for why they did not promote him.
The Ninth Circuit Court of Appeal reversed the trial court's decision. Its ruling stated that even though the average age of the selected employees was 8 years younger than France's age – and thus was insufficient to establish a prima facie case of discrimination – France could nonetheless rebut the presumption that the decision was made for nondiscriminatory reasons. The court held that France's evidence was substantial enough that a reasonable jury could find, by a preponderance of the evidence, that discrimination took place.
Are You Involved in an Age Discrimination Case?
The France v. Johnson ruling has ramifications for upcoming ADEA age discrimination cases throughout the Ninth Circuit. If you are an employer in Sonoma County, Mendocino County or Lake County California, and one of your employees has filed an age discrimination complaint – or if you work in Santa Rosa, Petaluma, Ukiah, Lakeport and other cities in northern California, and you believe you have been subjected to age discrimination – you may wish to contact our employment and labor law attorneys at Beck Law P.C.