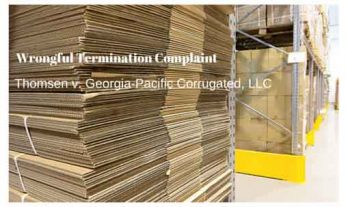 Wrongful termination complaint Thomsen v. Georgia-Pacific Corrugated, LLC. How far must an employer go to accommodate a worker's disability? Jan Thomsen worked at a corrugated container plant in Madeira, California for approximately 23 years. He sustained a shoulder injury on the job in 2012 and returned to work in 2013 after undergoing surgery. He informed his employer, Georgia-Pacific Corrugated, LLC, that he was now unable to perform the responsibilities of his previous position as a cut and die operator. He also provided verification from his doctor that his condition prevented him from performing certain responsibilities such as carrying anything that weighs more than 30 pounds.
Thomsen was then assigned a position as an assistant end gluer, which he believed would be a good match for his capabilities. However, after performing the job, Thomsen told his employer that the duties of the new position would need to be modified to accommodate his disability. He was told by an HR employee to return to his doctor, to determine whether additional restrictions were necessary.
Thomsen did not return to his doctor. He was fired shortly afterward, for refusing to work an overtime shift. Thomsen then filed a wrongful termination complaint against Georgia-Pacific. One of his claims was that his employer violated California's Fair Employment and Housing Act (FEHA) by failing to provide reasonable accommodation for his disability. At trial, Georgia-Pacific moved to dismiss this claim.
Many employers would look at these facts and conclude that Georgia-Pacific clearly had the law on its side. After all, when Thomsen was unable to perform his old job due to his injuries, Georgia-Pacific assigned him a new one – one that Thomsen agreed was within his capabilities. And when Thomsen asserted that he was unable to perform his new job, Georgia-Pacific's response was to ask for documentation, rather than firing or suspending him.
But according to a federal court, it is not that simple. The U.S. District Court for the Eastern District of California rejected Georgia-Pacific's motion to dismiss Thomsen's claim that Georgia-Pacific failed to accommodate his disability. The court found that a reasonable jury could find that Georgia-Pacific was obligated to engage with Thomsen to assess whether modifications to the position were possible.
Wrongful Termination Complaint – An "Interactive Process"
In reaching its conclusion, the court pointed to two particular allegations of Thomsen's wrongful termination complaint.
Thomsen's wrongful termination complaint alleged that his new position required him, at times, to lift more than 30 pounds – which his doctor had already confirmed was too much for him to handle.

Thomsen's wrongful termination complaint also alleged that a machine operator he worked with refused to accommodate his needs, and kept the machine running even when it was backed up.
Under FEHA, an employer must "engage in a timely, good faith interactive process with the employee or applicant to determine effective reasonable accommodations, if any" after an employee requests reasonable accommodations due to a disability or known mental condition. The court held that a reasonable jury could conclude that after Thomsen expressed concerns about the requirements of his new position, Georgia-Pacific was obligated to engage in a dialogue with him before deciding that he must return to his doctor.
Does Your Business Comply with FEHA?
Many employers in Sonoma County, Mendocino County and Lake County California are unaware that the law requires them to engage in an interactive process with employees under these circumstances. If you would like to know more about your company's obligations, you can contact the employment and labor law attorneys at Beck Law P.C. in Santa Rosa.