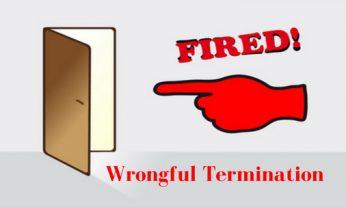 Wrongful termination? If you work as an at-will employee, with no union protections or contracts, you can be fired any time, for any reason, right? Wrong! California courts and laws require any terminations to be based on legitimate business reasons. Beyond that, there are several termination procedures that must be followed by law. If you believe your termination was not based on a lawful business rationale, you may wish to discuss it with a knowledgeable employment lawyer.
Legitimate Termination
No termination may violate state or federal regulations, such as those related to anti-discrimination. Beyond that, the firing or layoff must clearly be in the best interests of the company, and employers would do well to consider a number of factors:
What written policies regarding dispute resolution, arbitration, discipline, or "just cause" are on the books?

What process of progressive discipline was employed, if any? If no process was followed, is there a legitimate reason?

Was any contract violated, whether written or verbal? An implied contract deserves consideration just as much as a written one does.

Is the employee who is being terminated a long-term employee (five years or more?)

Is there previous evidence of job security, such as promotions or commendations?

Is the terminated employee pregnant?

Has the terminated employee filed a claim with worker's compensation?

Has the employee been involved in "whistleblower" types of complaints?

Does documentation exist substantiating misconduct or other reasons supporting a decision to terminate?
Additional Employer Responsibilities Related to Termination
Once the decision to terminate has been made, employers have certain responsibilities toward the terminated individual:
Final wages must be paid immediately. This includes unused vacation pay that may have been accrued, any commissions or reimbursements due, and profit sharing or bonus monies.

A number of forms must be provided to terminated employees, including

Notice to Employee as to Change in Relationship; For Your Benefit, California's Program for the Unemployed

; Health Insurance Premium Notice (HIPP); and any relevant COBRA and Cal-COBRA publications.

Discussions regarding the circumstances of termination must be kept confidential. Only those within the company who need to know the details should be privy to them. Information provided during reference checks must also be limited in scope.
Common Wrongful Termination Issues
Terminations that result in lawsuits tend to share one of a handful of particular themes that the courts generally do not take lightly:
Discrimination on age, race, sexual origin, gender, religion or other protected area;

Employee failure to pass a drug test;

Whistleblower retaliation;

Engagement in protected activities.