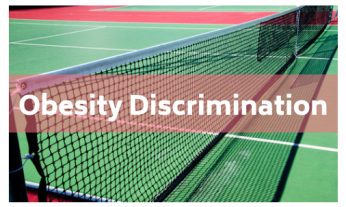 Obesity discrimination in the workplace? After 15 years on the job, a California woman began having problems. She says the issues all revolved around a new manager with a nasty temperament and his disdain for her and her oversized body.
Obesity Discrimination – Cornell's Story
As a college co-ed, Ketryn Cornell got a job as a lifeguard at the Berkeley Tennis Club, a revered tennis facility that has been the host of many a celebrity tennis star over the years.  
Over time, Cornell tried her hand in a number of positions at the club. She struggled with weight gain, and ultimately found she was not able to walk much farther than one mile or to stand in place longer than about an hour. Severe obesity was impacting her life and her health. 15 years after starting as a lifeguard at the luxury club, it would begin to affect her job.
New Manager Does Not Play Nice
When a new general manager was hired, Cornell claims he targeted her for her size, and deliberately humiliated her by ordering a work uniform that was several sizes too small. But that was not the end of it. Her manager pointed out that Cornell ought to consider getting weight-loss surgery, and told her she was not a "good fit" for the club.
Furthermore, when Cornell complained that a fit, young co-worker was making more money than Cornell was, the manager conceded that the petite woman was "a good fit."
Termination
Ultimately, this story ended like many such cases do – with Cornell's termination. The manager claimed that Cornell was surreptitiously attempting to record a board meeting one evening at the club. He used the accusation as the basis for firing her.
Obesity Discrimination – The Lawsuit
Cornell was having none of that, and quickly filed a suit claiming discrimination based on her disability (obesity), harassment, retaliation, and wrongful termination. The case was thrown out of court on a summary judgment motion, but the discrimination and harassment rulings were reversed on appeal.  
What Does it all Mean?
To prove obesity discrimination, Cornell will still be required to prove that her obesity constitutes a disability as a result of a physiological cause, and she will now have the opportunity to show that the manager's explanation for her termination was bogus, and simply a ploy to get rid of her. Additionally, she will be able to put forth her evidence that the manager's behaviors were predicated by malice, resulting in her wrongful discharge. [Read more…]