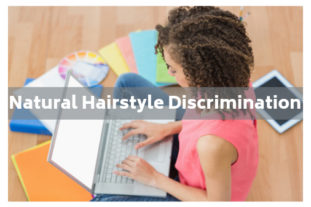 Have you missed out on employment opportunities because of natural hairstyle discrimination of your afro, braids, or locks?  Starting in January 2020, employers will no longer be allowed to discriminate against people based on natural hairstyles that they may not like. The Governor signed SB 188 into law, strengthening California's prohibitions on race discrimination. If you experience issues related to your natural hair in the workplace, it may be worthwhile to contact local employment attorney about next steps.  
History of Natural Hairstyle Discrimination

While both state and federal laws ban racial discrimination, hairstyles have not always been protected in all federal courts. The issue came into the spotlight in December 2018, when a young black wrestler in New Jersey was made to choose between his dreadlocks and being forced to forfeit a wrestling match. It was a horrible decision that no person, let alone a high schooler, should be have to make. The California legislature acknowledged a number of historical trends in the text of SB 188:
Traits associated with blacks, including dark skin and kinky hair, have historically been viewed as a sign of inferiority in this country;

Society's understanding of "professionalism" has been largely linked to European norms of appearance;

Irrespective of strides to reduce racism, hairstyles remain a significant source of racism in California and throughout the country;

This racism has very real impacts on the health and economic status of Black people and communities;

Workplace dress codes that ban natural hairstyles, including braids, afros, locks, and twists, disparately impact Black people;

Since hair is ultimately a proxy for race, discrimination of the basis of hair constitutes racial discrimination.
Practical Meaning of the Law
The impacts of this new law are significant. For individuals who have experienced discrimination based on hairstyles, affirmative relief is now a reality. This could mean a number of remedies are available, including:
Reinstatement to a former position;

Back pay for amounts lost due to termination or job reassignment;

Out-of-pocket expense reimbursements;

Grants of tenure previously denied;

Promotions previously denied;

Training opportunities for which the employee was previously deemed ineligible.
A Name with Meaning
Senate Bill 188 specifically identifies traits generally associated with race as being on the list of issues deserving of legal protections, along with sexual orientation, disability, sex, race, color, religion, and national origin. It has been given the acronym the CROWN Act, in order to promote the idea of respect for natural hair. No longer will Californians have to make grooming choices related to natural hair that could have significant ramifications in the workplace or at school. Instead, the Senate, which passed the bill unanimously, hopes that an expanded view of what constitutes "professionalism" will promote greater acceptance of the black experience in the state. [Read more…]