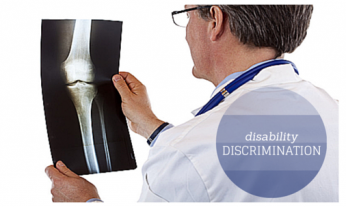 Wallace v. County of Stanislaus: A California appeals court clarifies what counts as disability discrimination. Dennis Wallace filed a complaint against Stanislaus County, California after he was fired from his job with the sheriff's department after suffering a knee injury. He alleged that he was fired due to a disability, even though he could have performed his job with proper accommodations – and thus the county violated the California Fair Employment and Housing Act (FEHA).
At trial, the jury found that the county treated Wallace as a person with a disability, and that Wallace was capable of performing his job with or without the proper accommodations. But despite these findings, the jury sided with the county, and Wallace's complaint of disability discrimination was dismissed.
Why? Because the judge had instructed the jury that Wallace had a burden to demonstrate that the county regarded or treated him "as having a disability in order to discriminate." In other words, the jury was told that Wallace needed to show that the county was motivated by ill will toward Wallace and used disability as an excuse to fire him. The jury found that this burden had not been met, and so the disability discrimination claim was resolved in favor of the county.
Wallace appealed, arguing that the jury instructions were incorrect, and that FEHA prohibits disability discrimination even when an employer has no animus against the employee. The Court of Appeal for the Fifth Appellate District of California agreed and remanded the case to the trial court for further proceedings.
The Court's Reasoning
The Supreme Court set a well-known standard for employment discrimination cases in McDonnell Douglas Corp. v. Green. Under McDonnell Douglas, there is a three stage test for complaints.
First, the burden is on the plaintiff to make a prima facie showing that employment discrimination took place.

If the plaintiff meets this burden, then the burden shifts to the employer, who must provide a legitimate reason for taking the negative employment action in question (such as a firing),

If the employer meets this burden, then the burden shifts back to the plaintiff, who can prove that discrimination took place by providing evidence that the employer had a discriminatory motive. This often involves demonstrating that the reason given by the employer was just a pretext for discrimination.
In Wallace, the appeals court clarified that the McDonnell Douglas test is only to be used if the plaintiff has no direct evidence of discrimination. In Wallace, there was direct evidence of discrimination, being as the employer acknowledged that Wallace's disability was the reason he was fired.
The court held that when there is direct evidence of discrimination based on disability, the focus should not be on the employer's motivations. Rather, the focus should be on whether the employee was able to perform essential job functions, whether a reasonable accommodation would allow the employee to perform these functions, and whether the accommodation would impose too much of a hardship on the employer. Thus, the court held that the instruction given to the jury was in error. [Read more…]