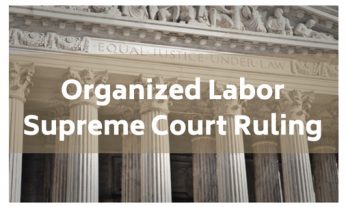 In a blow to public sector organized labor, the Supreme Court granted a long-time wish of conservatives, rewriting a decision allowing public enterprises to charge union dues to non-union members in order to exact some contribution for collective bargaining. With the recent decision, if California workers choose not to join the union, they cannot be required to contribute to union operations.
Organized Labor – No More Share Fair Fees
Referred to as share fair fees in California, the court ruled the First Amendment rights of non-union employees are violated when compelled to support unions with which they may disagree philosophically or politically. Justice Samuel Alito wrote the majority opinion for the court's five to four decision.
Impact on Public Sector Organized Labor Unions
Over five million workers across the country will be impacted by the court's decision, including many right here in California. Additionally, the power of unions is expected to decline with the corresponding decline in dollars. Disgruntled union members who resent paying dues to increase the wages and job safety for non-union members are expected to drop their memberships in large numbers, reaching as high as 700,000. Why pay dues if every employee receives the same benefits, regardless of membership? The American Enterprise Institute projects membership losses of anywhere from 20-50% in coming years.
Impact on Public Sector Organized Labor Union Workers
The effects of weakened unions over recent years have already had an economic impact on all workers, union and non-union alike. Wages have been steadily dropping in line with union membership in the past decade, and are projected to be 5% lower than expected due to the decreased clout of unions. That is just about $3,000 per year for the typical non-union employee.  It is argued that the shrinking sway of unions is one of the key reasons that workers' wages stagnate. This ruling, then, with the associated decline in union membership, is anticipated to impact roughly five million jobs in the public sector, from educators to pipe fitters.
In the past, non-union employers tended to raise wages to compete with contemporary earnings that union employers paid out, meaning entire communities enjoyed the economic boost negotiated by unions. Additionally, when the rank and file received negotiated raises, their non-union managers also generally got a pay hike. So, it seems, all workers won.
Beyond salary considerations, unions also negotiated to establish policies that promoted fair treatment and safety in the workplace. Oftentimes, those policies carried over into rival businesses, since competitors could be at a disadvantage otherwise. [Read more…]