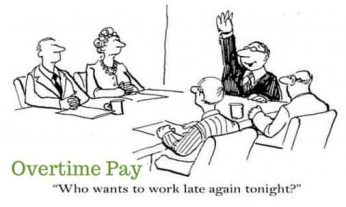 Under California law, pay to employees whose positions are considered to be executive, administrative, or professional are exempt from overtime pay if their salaries are at least twice the full-time minimum wage. With the current minimum wage in California being $10 per hour, the necessary overtime pay salary level is $41,600 a year. This is a significantly higher level than the overtime pay exemption level under federal law, which is currently $23,660 a year.
However, new federal regulations recently announced by the U.S. Department of Labor will greatly decrease the number of workers who are exempt from overtime pay. Beginning December 1, 2016, the Fair Labor Standards Act will stipulate that full-time workers are not eligible for this exemption unless they make $47,476 per year or more. Thus, many California executive, administrative and professional workers will become eligible for overtime under federal law, even though California law does not currently require it. (As the California minimum wage increases to $15 an hour, however, California's exemption level will once again become higher than the federal level.)
The regulations also make several other significant changes, including the following:
A New Definition of "Highly Compensated" Employees
The FLSA establishes a salary level at which an employee is considered "highly compensated." If an employee has a salary that is at this level or higher, and the employee performs at least one duty of "an executive, administrative or professional employee," then he or she will be considered a highly compensated employee who is exempt from the overtime requirements. (The FLSA clarifies that an employee's primary duty must include office or non-manual work in order to be exempt as a highly compensated employee.)
This salary level is currently specified as $100,000 per year. However, starting on December 1, that number will increase to $134,004. According to the White House, this change is being made because employees at this salary level are more likely to perform the kinds of job duties that would make them exempt.
Inclusion of Bonuses
One change that will likely please employers is that non-discretionary bonuses, incentive payments, and commissions can now be included when determining whether an employee meets the salary level requirement. If an employer is tabulating an employer's salary to determine his or her exemption status, these types of income can account for up to 10 percent of the total salary.
For example, if an employee has a salary of $45,000, and also earns $6,000 in bonuses, then the employee's salary would be tabulated as $50,000. (The full $6,000 would not be counted, because only 10%  of the employee's income can consist of bonuses, incentive payments, or commissions.) The employee would thus be exempt, so long as he or she meets the other requirements. [Read more…]