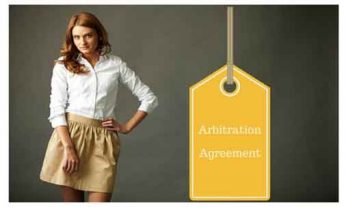 California Supreme Court clarifies what counts as an "unconscionable" Arbitration Agreement. When Maribel Baltazar took a job with the clothing retailer Forever 21, she signed an employment application that contained an arbitration agreement. The agreement stated that any employment-related disputes she might become involved in would be resolved via arbitration. It also included specific examples of disputes that would be subject to arbitration, such as wage claims, breach of contract claims, and discrimination claims.
In 2011, Baltazar quit her job, and filed a claim against Forever 21 in superior court, alleging discrimination based on sex and race, verbal and physical harassment, and retaliation. Forever 21 moved to compel arbitration, as specified by the arbitration agreement. Baltazar argued that the arbitration agreement was unconscionable, and thus could not be enforced.
The case made its way to the California Supreme Court, and on March 28, 2016, the Court ruled in favor of Forever 21. The decision,  Maribel Baltazar v. Forever 21 Inc. et al., sets important precedents regarding when an arbitration agreement should be considered unconscionable.
The Court's Arbitration Agreement Reasoning
Baltazar initially won at trial. The trial court ruled that the arbitration agreement in the contract was an unconscionable contract of adhesion, being as it was written on a preprinted form and offered on a take-it-or-leave-it basis. However, both an appeals court and the California Supreme Court disagreed on the issue of unconscionability. The Supreme Court pointed out that while it was a contract of adhesion, it was not unconscionable because there was no element of surprise involved in the agreement, and that Baltazar was not lied to, place under duress, or manipulated into signing it.
One of Baltazar's arguments was that the arbitration agreement should be considered invalid because it allowed the parties to seek temporary restraining orders or preliminary injunctions. She claimed that this clause was unfair because her employer was more likely than an employee to seek a restraining order or a preliminary injunction. The Supreme Court held that the clause did not confer an advantage on either party because it simply confirmed rights that the parties hold under California law.
Another argument Baltazar made in favor of the agreement being unconscionable was that it listed examples of what kinds of claims are subject to arbitration, and the only examples cited were employee claims. The Supreme Court held that it is acceptable for an employer to list only these types of claims as examples, so long as the wording of the contract makes it clear that all employment-related claims are subject to arbitration. The Court pointed out that the arbitration agreement stated that the claims subject to arbitration "include but are not limited to" the examples given. [Read more…]