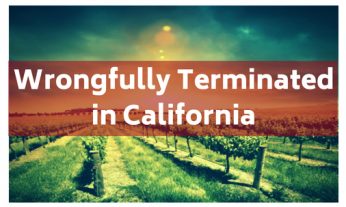 When the Director of Facilities for a Napa Valley resort executed the duties required by his job, he claims he was wrongfully terminated. Instead of rolling over and accepting his fate, Daniel Philbin took the case to court. The property owner, Carneros, sees things quite differently from the story Philbin tells.  As with most employment disputes, only with the help of an experienced local attorney will the plaintiff be able to successfully present a case.
Wrongful Termination and Job Expectations
Being in charge of the resort facilities encompassed many responsibilities, among them three key duties;
Ensuring the facility met ADA compliance regulations for disabled guests;

Reporting resort water usage;

Procuring necessary permits.
According to Philbin, his attempts to execute these obligations met with dissatisfaction from his employers, and resulted in his untimely termination. Specifically, he contends that when new owners took over the property and began renovations, they declined to install the ADA required ramps and lifts in the patio and spa areas. Additionally, Philbin asserts that when management sought to drill a new well on the property, they neglected to apply for the permits to enable water and electrical connections, despite Philbin repeatedly urging them to do so.
Instead of the new owners appreciating Philbin's knowledge and expertise as a property manager, they ignored his overtures to follow legal procedures, and started holding meetings without him. Ultimately, he found himself without a job.
Wrongfully Terminated – The Other Side of the Story
Not true, claims the resort. As far as the ADA concerns, those were addressed immediately upon discovering there were issues. Yes, water issues were problematic, but the resort was fully cooperating with the County on that matter.  
In fact, the new owners were so intent on handling the water issues properly that they ultimately hired an outside contractor to handle it exclusively. Philbin was presented with an offer to deal with other property issues for a monthly salary. Instead, according to Carneros, Philbin lost his cool in a tense meeting and resigned. The company accepted the resignation immediately.  
Wrongfully Terminated? The Court Must Decide
Philbin says he received a letter from Carneros accepting his resignation, even though he never resigned. He is now seeking damages, attorney's fees, and associated court costs. California's Labor Code section 1102.5 provides strong protections for employees who are fired because they fail to join in unlawful activity. Was Philbin cut out because he insisted on proper procedures?  Did Carneros exact retribution? Was Philbin wrongfully terminated? The court will now have to decide. [Read more…]