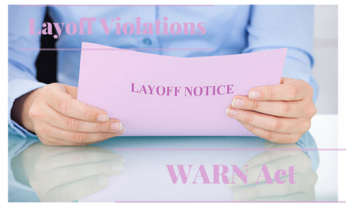 The WARN Act, Worker Adjustment and Retraining Notification, is a California and federal law requiring employers to give employees notice before layoffs and plant closings. WARN Act laws,  can carry harsh penalties for employers who violate them, which could be very bad news for Yahoo!, Inc.
Gregory Anderson, who previously worked as an editor at Yahoo's headquarters in Sunnyvale, California, has filed a wrongful termination suit. Anderson alleges that Yahoo violated both the federal WARN Act and the California WARN Act by reducing its workforce by around 600 employees without declaring a reduction in force or providing the employees notice under the WARN Acts.
What are the Requirements of the WARN Act?
California's WARN Act has a broader scope than the federal WARN Act. The federal law applies only to employers with 100 or more full-time employees, while California's law applies to employers with 75 or more or part-time employees. In both cases, the employees must have been employed for at least six of the previous 12 months.
If an employer covered by California's WARN Act lays off 50 or more employees during a 30-day period, the employer is required to give the affected employees notice 60 days before the layoffs take place. Federal law requires this only if the number of employees affected constitutes at least 33% of the full-time employees at a single place of employment. (However, if 500 or more employees are laid off, the federal law requires notice regardless of whether the employees meet the 33% requirement.) California's law, unlike the federal law, applies also to employees who must be relocated.
Both laws hold employers liable for back pay and benefits for each day that they failed to provide an employee with proper notice. California's law also allows for a civil penalty of $500 for each day.
Anderson's WARN Act Lawsuit
Anderson alleges that Yahoo used a Quarterly Performance Review (QRP) Process to sidestep the requirements of the WARN Acts. According to his complaint, Yahoo manipulated the results of the employees' reviews and used their low scores as a pretext for terminating them, rather than laying off the employees and providing them with proper notice. Anderson is seeking back pay and benefits for the 60 days that he was not given notice, and $500 for each of the 60 days. He is also seeking attorney's fees and damages related to other causes of action.
Another allegation in Anderson's complaint is that Yahoo discriminated against him on the basis of his gender. According to Anderson, the company has a pattern of promoting women while "terminating, demoting or laying off men because of their gender." Anderson also alleges that he was fired in violation of public policy, because he was terminated after complaining to Yahoo management about the legality of the QPR system. [Read more…]