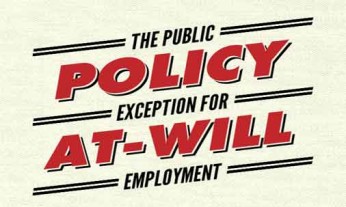 If you ask an employer what "at-will employment" means, there's a good chance they'll tell you that it means an employer can fire the employee for any reason they want – or for no reason at all.
This is a very common definition of at-will employment, but it isn't quite accurate. An employer can fire an at-will employee for almost any reason – but there are exceptions.
The best known of these exceptions is that certain forms of discrimination can be illegal grounds for firing an employee. (In California, these forms include discrimination based on race, national origin, gender, religion, age, sexual orientation, pregnancy status, marital status, genetic information, and disability).
There are other reasons for firing an employee that are prohibited by statute. These reasons include firing an employee for filing a claim for workers' compensation, or for taking leave that is guaranteed to them under federal or state law, or for engaging in protected union activity.
Another exception is that it is illegal to fire an employee for a reason that is in opposition to public policy. This means that an employee cannot be fired for:
refusing to violate a statute;
performing a statutory obligation;
exercising a statutory right or privilege;
reporting a violation of a statute of public importance.
If an employee files a claim against an employer for wrongful termination in violation of public policy, he or she will have to demonstrate that:
He or she was an employee of the employer;
That he or she was discharged by his or her employer;
That the alleged violation of public policy was a motivating reason for the discharge;
That the discharged caused the employee harm.
Yau vs. Santa Margarita Ford
A good example of these circumstances can be found in the case of Yau vs. Santa Margarita Ford, Inc. It involved an employee of an auto dealership, who became aware that some of his coworkers were submitting fictitious warranty repair claims. He chose to notify the owner of the dealership about what was happening, and his coworkers responded to the accusation by falsely accusing him of being the mastermind of the scheme. He was later told that he was being fired for alleged warranty fraud, and then was promptly led out of his office by sheriff's deputies.
The employee filed a complaint against his employer for wrongful termination. He argued that the motivation for his firing contravened public policy set forth in several different laws (such as laws prohibiting criminal conspiracy, theft, fraud and deceit). A California Court of Appeal held that these statutes were statutes of public importance, and that his allegations were properly tethered to the statutes.
Have Your Rights Been Violated?
If you've been fired from a job in Sonoma County, Mendocino County or Lake County California and believe that the reason for your firing was in opposition to public policy, don't let anyone tell you that your employer had the right to fire you "for any reason they wanted." You may very well have a case against your employer, even if you were an at-will employee.
It may be well worth your time to contact an attorney. Our experienced Beck Law P.C. labor and employment law attorneys in Santa Rosa can evaluate your individual situation, and help you decide how to proceed. Contact our office today for a consultation.