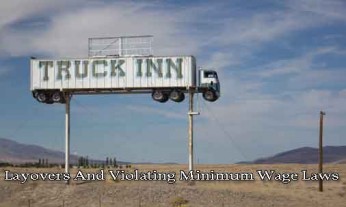 Has Wal-Mart been violating minimum wage laws? Wal-Mart's trucking system has gotten a great deal of attention recently, as a Wal-Mart driver has been charged with manslaughter for his role in the auto accident that left comedian Tracy Morgan severely injured. However, California employers would be well advised to take note of a different court case involving Wal-Mart and trucking – Ridgeway v. Wal-Mart Stores, Inc. – which has set some important precedents regarding minimum wage standards.
The case involves a group of Wal-Mart truck drivers who sued their employer, on the grounds that they were not paid minimum wage for all of the hours that they worked. They alleged that Wal-Mart should have paid them at least minimum wage for the time they spent on mandatory layovers, and on activities such as fueling, making inspections, and finishing their paperwork. Wal-Mart argued that the drivers were not entitled to minimum wage for time spent on layovers, and that the aforementioned activities were subsumed within other activities for which the drivers were paid at least minimum wage.
When the plaintiffs filed a motion for summary judgment on whether Wal-Mart's payment policies were in compliance with California law, the U.S. District Court for the Northern District of California granted their motion. The Court's order included the following findings:
The Court rejected Wal-Mart's claim that activities like fueling, making inspections, and finishing paperwork could be subsumed into other activities. The order states that employers are not allowed to "build in" time spent on non-driving activities into a piece-rate compensation system, but instead must pay employees such as the plaintiffs at least minimum wage for all hours worked.

The Court held that Wal-Mart was required to pay the drivers the minimum wage for time spent on layovers. Wal-Mart, which paid the drivers $42 total for 10-hour layovers, argued that the drivers were not subject to their control during their layovers, but the Court rejected this argument. According to the order, the drivers were subject to their employer's control during layovers because Wal-Mart prohibited the employees from spending the layovers at home, and set limitations on where the layovers could take place.

Wal-Mart pointed out that general transportation managers provided discretionary payments to drivers at times. The plaintiffs argued that while the payments may be relevant to the amount of damages, they were not relevant to the motion for summary judgment. The Court agreed with the plaintiffs and stated that the discretionary nature of the payments demonstrated that they were not indicative of Wal-Mart's standard pay policy.
Could Your Business Be Violating Minimum Wage Laws?
If you run a business in Sonoma County, Mendocino County or Lake County California with a piece-rate compensation system, it may be time for you to take a close look at whether your policies comply with the law. If you work as a truck driver in California and you have not been paid minimum wage for all of your work hours, you may wish to look into whether you have a case against your employer. [Read more…]