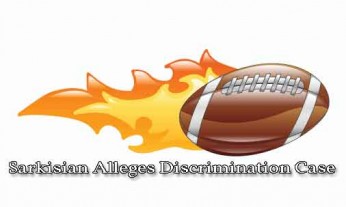 Does former USC Football Coach Steve Sarkisian have a discrimination case? Steve Sarkisian was fired from his position as head coach of the University of Southern California (USC) football team in October, after incidents during which he allegedly appeared at events intoxicated. Sarkisian has now filed a wrongful termination suit against USC, alleging (among other claims) that the university discriminated against him on account of his alcoholism.
The circumstances of the firing are unclear. Sarkisian claims that he asked athletic director Pat Haden for time off to seek treatment for alcoholism, and in response Haden placed him on indefinite leave. According to Sarkisian's complaint, he was then "kicked to the curb" less than a day later, when he was notified of his firing via email while he was traveling to a rehabilitation program.
However, USC issued a public statement in response to Sarkisian's allegations that portrays the matter differently. According to USC, Sarkisian never acknowledged that he had a problem with alcohol and refused help when the university offered it. USC also claims that it provided Sarkisian with written notice that he would lose his job if there were further "incidents."
Was Sarkisian's Firing Justified or is a Discrimination Case a Possibility?
The discrimination case deals with some complex issues surrounding discrimination law. Under both the Americans with Disabilities Act (ADA) and California's Fair Employment and Housing Act (FEHA), alcoholism is a protected disability. It is illegal under both statutes to discriminate against an employee based on the stigma of alcoholism or based on past alcohol use. However, an employee is not protected when it comes to current alcohol abuse or misbehavior that arises from alcohol abuse.
Sarkisian's complaint acknowledges that he "appeared" inebriated at a USC fundraising event called Salute to Troy and that he uttered an obscenity at the event. Sarkisian claims that he drank two beers and then took two prescription anxiety medications, and that his behavior stemmed from the mixture of the medication and the alcohol in his system. This event could prove to be crucial to the case. If the finder of fact determines that this constituted Sarkisian being intoxicated at work, then the incident could be seen as a justifiable reason for termination.
However, if the finder of fact determines that Sarkisian was fired for seeking treatment for alcoholism, then his termination could be seen as discriminatory. It is generally considered a violation of the ADA as well as FEHA to fire an employee under such circumstances. [Read more…]